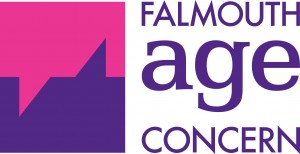 Falmouth Age Concern (FAC) is an independent charity serving the local area. We work with and for older people in the towns of Falmouth, Penryn and their surrounding villages and countryside. FAC runs a volunteer befriending service, several clubs and classes and a programme of summer exclusions to the coast and countryside. Falmouth Age Concern is not part of Age UK though we work closely with them and with other older people's charities and organisations. FAC has its own committee and trustees and raises all its own funds. We are registered with the Charity Commission as Charity No. 259184.
The befriending service has now been running for over 12 years. Set up in October 2004 in  response to a clear need, a one-year pilot programme proved to be a great success in helping to alleviate loneliness and isolation amongst elderly people in Falmouth, Penryn and the surrounding villages.  In 2005 a grant from the Big Lottery Fund for core funding allowed the service to continue and expand.
The befriending service sends volunteer visitors to elderly people in the area.  They visit once a week, just for a chat and perhaps a cup of tea.  It is simple but effective – and in some cases the only point of contact a lonely older person may have with the outside world.  Falmouth Age Concern also offers a telephone befriending service as well as several clubs and classes.
All volunteers have been carefully vetted and police (DBS) checked.  Well over five hundred people have been involved over the years and more than fifty are currently actively befriending.  More than five hundred elderly clients have been assessed and offered help since we started.
"We believe that we are making of real difference to elderly people in Falmouth, Penryn and the surrounding villages – and in some cases actually changing lives"
It costs over £30,000 a year to run the service effectively.